This study shows that 10% of patients with severe COVID-19 have neutralising antibodies against the cytokine interferon type 1
---
Keywords: COVID-19; subcutaneous interferon-beta 1b; type I IFN neutralizing autoantibodies; severity biomarkers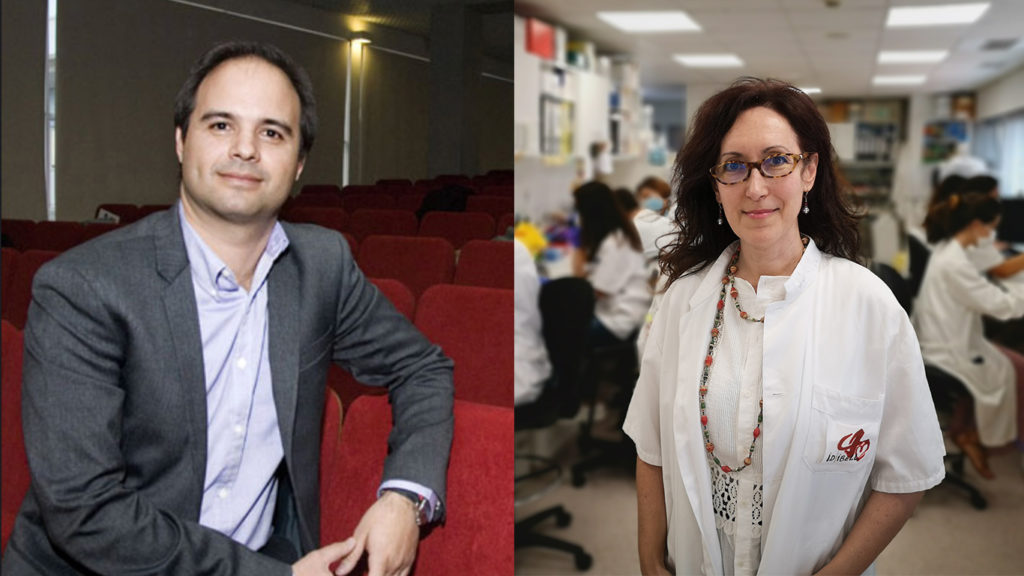 Confirmed the presence of autoantibodies against type 1 interferon as an indicator of COVID-19 poor prognosis – IDIBELL
A study led by IDIBELL and the Infanta Leonor University Hospital in Madrid shows that 10% of patients with severe COVID-19 present neutralizing antibodies against the cytokine interferon type 1
Not only confirms the prevalence of autoantibodies in a significant number of patients with a worse prognosis, but also correlates them with biochemical biomarkers already in clinical use, such as a decrease in lymphocytes number or increase in C-reactive protein, also, underline the predictive value of these antibodies against interferon.

Dra. AURORA Pujol
Description of the Study:
Title: Neutralizing Autoantibodies to Type I IFNs in >10% of Patients with Severe COVID-19 Pneumonia Hospitalized in Madrid, Spain.
Principal Investigator: Aurora Pujol and Jesús Troya.
Co-Investigators: Paul Bastard, Laura Planas-Serra, Pablo Ryan, Montse Ruiz, María de Carranza, Juan Torres, Amalia Martínez, Laurent Abel y Jean-Laurent Casanova.
Centres of Implementation: Infanta Leonor University Hospital in Madrid.
Study Population: 47 COVID-19 patients with severe pneumonia.
Study Type: Cohort study.
Methods: They analysed stored serum/plasma samples and clinical data of COVID-19 patients treated subcutaneously with IFN-beta-1b from March to May 2020.
Objectives of the Study:
Principal Objective: To define the prevalence of IFN type I neutralising autoantibodies in a cohort of patients with severe COVID-19 pneumonia treated with IFN-beta-1b during hospitalisation and to analyse their impact on several clinical variables and outcomes.
More about this Study:
Scientific Context: Since the first case of pneumonia caused by SARS-CoV-2 was reported in Wuhan in December 2019, this virus has infected more than 79 million people and has been responsible for at least 1.7 million deaths over the world. Most of the patients infected by the new coronavirus do not present symptoms or these are mild, 3% develop pneumonia, and 0.3% progress to more severe conditions such as acute respiratory distress syndrome. However, the factors that determine the severity of the disease remain unknown, unraveling them could be determinant to improve treatment and prognosis of the disease.
Previous studies, with the participation of Dr. Aurora Pujol, geneticist and ICREA professor at the Bellvitge Biomedical Research Institute (IDIBELL), pointed out that the cytokine interferon type 1 could be playing a key role in the development of the most severe forms of COVID- 19. These studies showed that 10% of patients with severe forms of COVID-19 had developed their own antibodies against interferon. Furthermore, parallel studies demonstrated that mutations in the signaling pathway of this cytokine were also related to severe COVID-19.
Other Studies about Immunology:
This study aims to determine whether the neutrophil-to-lymphocyte ratio (NLR) can be useful in the diagnosis and treatment of COVID-19.